🟡 Weekly comments
Last week, the risky asset class such as #ETH/#BTC or #S&P500 traded in range by developping an upside swing within the range. The mid-term resistance hasn't been reached however #ETH surpassed the 1275 short-term resistance this week end giving credit for a further upside swing extansion till the Inflation statistics in US on thursday.
Some Alts coins reacted with a strong short-term reaction which is the result to an alignment of the last past weeks volatility however like the #ETH or #S&P500 no one triggered a mid-term bullish signal. Some of them keep short-term upside potential such as #OCEAN, #ATOM , #ENJ, #MATIC, #AAVE, #ADA - but others are already on resistance such as #BNB
Playing the short-term upside swing on ETH, MATIC seems less risky than buying the all portfolio - However still to early to enter strong for the mid-term / long-term players.
🟡 Global Macro
On the Global Macro side the #WTI is still trading range between 83 and 69 USD which continue to decrease the pressure on Inflation, Grains like #Wheat are also trading range without eratic volatility which also help inflation to decrease.
#USD continue to evolve in a mid-term weakness trend, EUR/USD seems to have complete the short-term setback to test 1,08 area this week.
#S&P500 should test the mid-term 3985 resistance area within the range configuration before showing the wy for the next coming weeks (new downside swing are upside breakout)
🟡 Crypto
#ETH bypassed 1275 opening 1350 and 1450 max (mid-term resitance in parallel of 3985 S&P500) above the short-term support at 1220
#BTC is approching the resistance ata 17350 und continue to underperfom the ETH (to play long better to select ETH as BTC)
Exemple of ALT COIN With potential remaining
#ATOM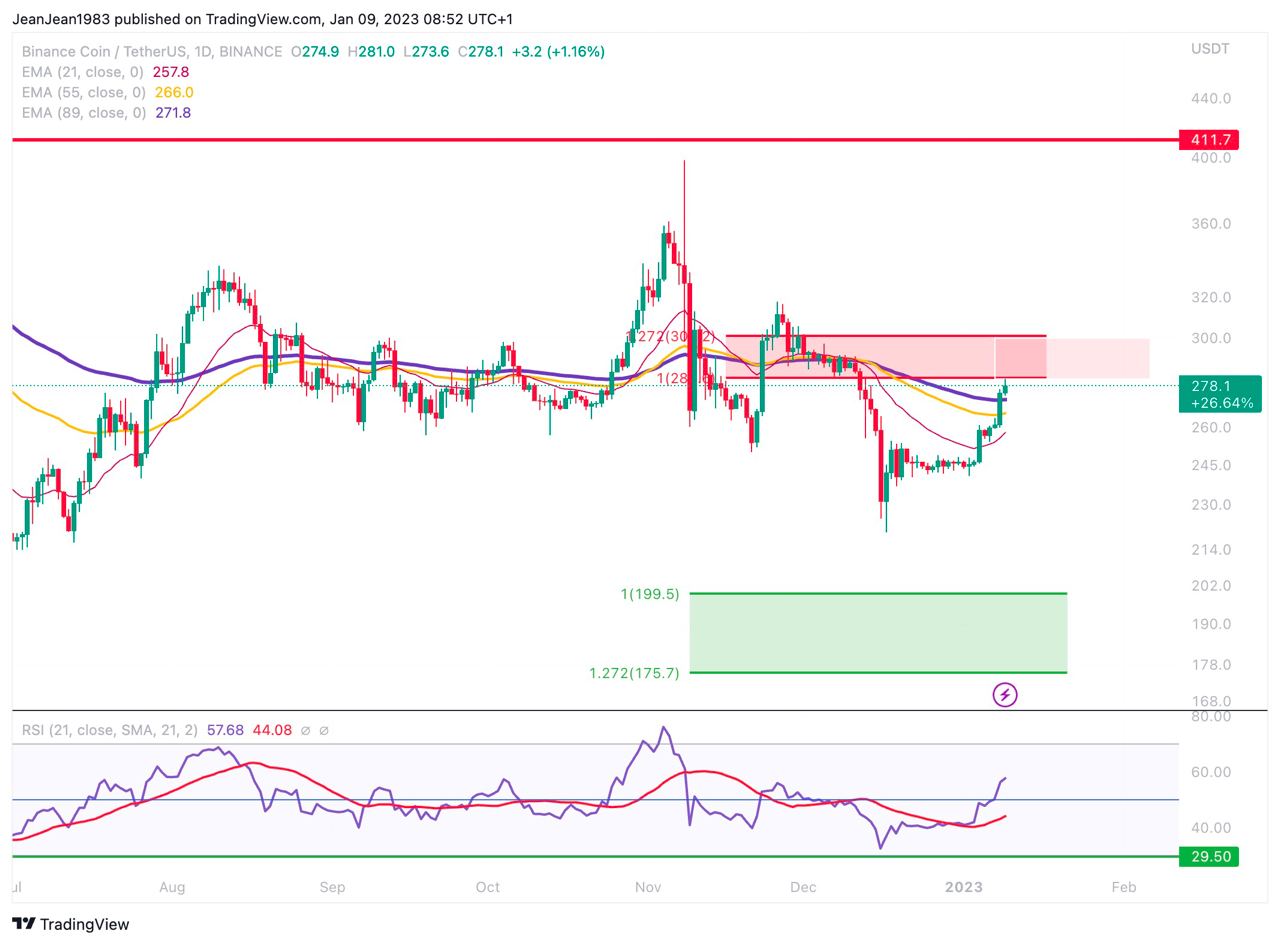 Exemple of ALT COIN without potential (on resitance)
#BNB
Auteur : Jean GUILLOU